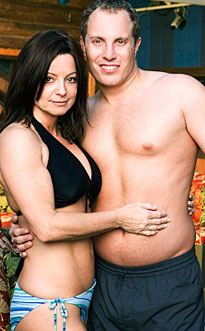 Monty Brinton/CBS
Big Brother champ Adam Jasinski is used to confined spaces with round-the-clock surveillance, so this shouldn't be a problem for him.
A federal judge in Boston has denied a motion to release the reality meathead, who's been locked up since his arrest two weeks ago on drug-peddling charges.
"He is detained," court clerk Maria Simeone tells E! News, adding that U.S. District Judge Leo T. Sorokin "determined that the government had met its burden of proof based on the evidence and that the defendant posed a risk of flight."
The 31-year-old Florida native, who stirred up controversy by referring to autistic kids as "retards" during his run to the $500,000 grand prize in the ninth season of Big Brother last year, was busted in a sting operation on Oct. 17. He is accused of trying to sell two bags of the prescription painkiller oxycodone (aka hillbilly heroin) to an undercover G-man.
No word yet on the next court date. If convicted, Jasinski faces up to 20 years in prison and a $1 million fine.