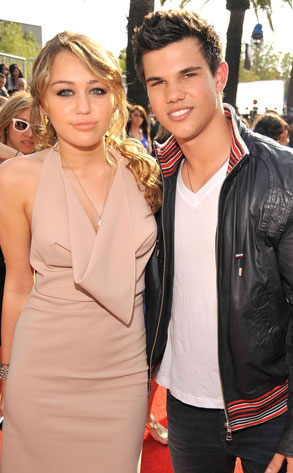 Kevin Mazur/Getty Images
Dear Ted:
I came upon this article, and I just wanted to point out that it did make valid points. I am in no way a fan of or care about what Miley Cyrus does, but there does seem to be a double standard when it comes to males and females. You have scolded Miley for pole dancing, but what about Taylor Lautner who poses for magazines in a wet T-shirt? Jaws drop for him whenever he takes his shirt off, but can the same be said for Miley? Her scandalous photo shoot for Vanity Fair sparked a lot of controversy, but here is Taylor, who is also underage, taking his clothes off for magazines. While, yes, Miley is a Disney Darling, so what? Taylor wasn't a darling, but he was associated with the franchise. What makes it OK for Taylor to pose semi-nude and not Miley? Is it because he's male? I would love to hear your opinion.
—Faye
Dear What's the Diff:
Totally valid point. Except I know a lot more about Miley's behind-the-scenes doings as I do about Taylor's. At this point, at least.
Dear Ted:
I'm probably way too old to be focusing on teenager crap, but here goes: I know that everyone thinks Taylor Swift is so sweet, but I thought she was supposed to be good friends with Selena Gomez? Good friends don't date each other's ex-boyfriends/ex-"close friends"/whatever. Or is it Selena who's not as sweet as she appears?
—janedoeny
Dear Good Question:
You're right—that's girl rule No. 1. Could one of those three relationships be faux, then?
Dear Ted:
Just saw the pics of Robert Pattinson and Kristen Stewart leaving VBC. What is wrong with them? Taylor Lautner walks around like a normal person, whereas R and K draw more attention to themselves by hunching around looking like they're wearing bad disguises. Can't Summit teach them how to handle themselves a little better? Don't they know how stupid they look?
—MRF