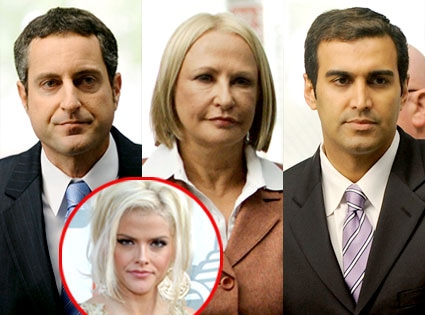 Kevork Djansezian/Getty Images; Danny Moloshok / Reuters; Kevork Djansezian/Getty Images; Ning Chiu/ZUMApress.com
Oh, so it can get worse.
A California Medical Board investigator testified Wednesday that a 2007 search of the home of former Anna Nicole Smith physician Sandeep Kapoor turned up a journal in which the doctor wrote, "I was making out with Anna, my patient, blurring the lines. I gave her Methadone, Valium. Can she ruin me?"
If what he wrote in his diary was true, so much for that whole "How dare you, I'm gay!" excuse.
Kapoor and psychiatrist Khristine Eroshevich, who along with Howard K. Stern are facing charges of facilitating Smith's drug habit, have both been accused of having inappropriate contact with their patient.
Investigator Jon Genens said on the stand that he believed this entry, dated June 13, 2005, was the only mention of Smith in Kapoor's journal, which had entries dated between 1999 and 2005.
Various records pertaining to Smith's and her son Daniel's medical treatment were also found in the doctor's kitchen and closet, Genens testified earlier today. He said they contained numerous differences from the supposed duplicates that Kapoor's attorney had at his office, including notes about Smith's vital signs and prescription instructions.
A progress report found in Kapoor's home dated April 24, 2006, contained the note, "benzo addiction? to avoid"—a note not included on the otherwise identical copy at the lawyer's office.
Genens continued: During a checkup conducted about a year before Smith's death on Feb. 8, 2007, Kapoor documented a lesion on the former Playmate's left thigh and that she felt pain in her left leg. Another document from the same date, but made out using one of Smith's aliases, listed a different blood pressure, pulse and respiratory rate than the forms with Smith's name on them.
"Doctors' notes need to accurately reflect what's going on with their patients," Genens said.
He also testified that another journal entry indicated that Kapoor was abusing Ambien, BuSpar and Wellbutrin. "I have to get off the drugs," he wrote in 2002, according to Genens.
The hearing to determine whether there is enough evidence to take the cases against Kapoor, Eroshevich and Stern to trial is expected to wrap up this week.
________
Keep up with this nasty Anna Nicole Smith business right here.