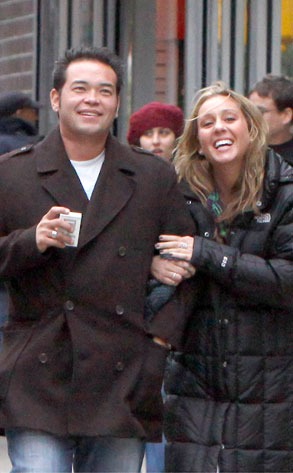 INFphoto.com
 • Hailey Glassman says Jon Gosselin often throws mantrums where he calls her up and yells at her. "I shouldn't have to put up with being emotionally abused," she says, yet she won't leave him. "I don't want to leave him all alone. At the end of the day, I love him, but I dislike him at times. When I love someone I would never hurt them."
• This is quite the headline: "Exclusive: Kate Hudson and Alex Rodriguez 'Love Sex,' Says Pal." But that's not even the best part of the story. This is: "Another fling recalls portraits of the slugger as a centaur hanging over his bed."
• There has to be a better way to sell Vitamin Water than putting it in a New Moon trailer, right?
• Leave it to Joe Jackson to make sure his This Is It premiere appearance in Las Vegas was one of utmost class.
• It's nice to know the things Shakira says in real life ("My body feels like it is asking to reproduce") are as crazy as her song lyrics ("I'm starting to feel just a little abused like a coffee machine in an office").
• Michael Lohan is still on his quest for 2009's Father of the Year Award. He is now trying to nail down when Lindsay will die.
________
Reese Witherspoon looks absolutely adorable begging or praying or whatever she's doing in our Big Pic gallery.