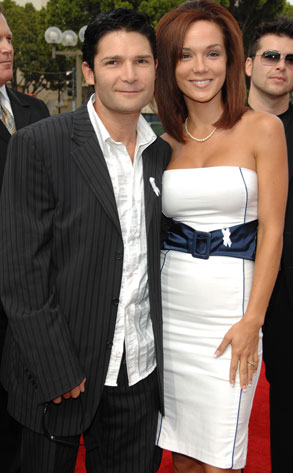 Lisa O'Connor/ZUMAPress.com
UPDATE: A rep for Corey Feldman said the actor is hopeful he and his soon to be ex-wife "can work to resolve this quickly and amicably and he is fully committed to doing what is best for the welfare of their son."
But not to accepting blame for the split.
The rep said Feldman is "deeply hurt and saddened by this unexpected change in their relationship, and has done nothing to contribute to the demise of the marriage."
________
Dreaming a little dream doesn't always work.
Corey Feldman's wife, Susannah, filed for divorce last week after seven years of marriage, citing the nondescript irreconcilable differences as the reason for splitting up.
She wants legal and physical custody of their 5-year-old son, Zen, and for Feldman to pay spousal and child support. She wants her ex to have visitation rights, according to the petition filed Oct. 22 in Los Angeles Superior Court.
This was Feldman's second marriage.
Perhaps life had just gotten too, well, surreal for Susannah since wedding her hubby on the set of The Surreal Life in 2002, nine months after they met at a club.
"Six years together and we're still in love," Feldman, 38, told People in 2007. He also credited his wife and son with helping him break free of a spiral of depression and substance abuse.
"Whereas I used to get depressed or neurotic or dwell on things, I see my son's bright eyes and smile in the morning, and suddenly, I don't feel like I'm depressed anymore," he said. "There's nothing to be depressed about when you've got that."