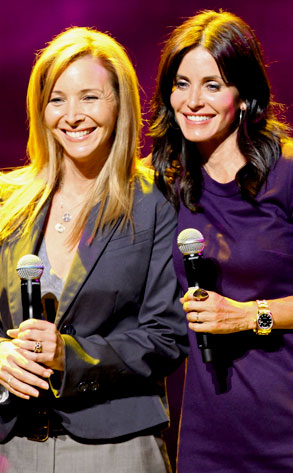 Christopher Polk/Getty Images
"I didn't realize we were really good friends. I figured we were more like Chandler and Phoebe. They never really had stories together."
—Abed (Danny Pudi) to Annie (Alison Brie), NBC's Community
We know this much to be true: Any Friends rerun playing at 11:30 p.m. on channel 5 is still as good or better than most of the original episodes of TV airing on any given day.
Friends still rules, after all this time, which is why we're delighted that five years after the series went off the air, Courteney Cox and Lisa Kudrow are reuniting onscreen!
ABC sources confirm that Kudrow is set to film an episode of Cox's hit freshman series, Cougar Town, later this month.
But who will Lisa play, and when will we see the episode onscreen? Here's what we can tell you...