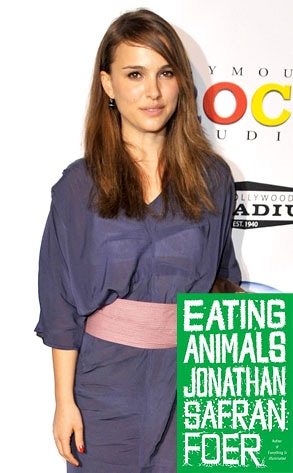 Steve Granitz/ Getty Images; Amazon
First, she admits to cutting herself, now she's making criminals of meat-eaters. Make no mistake, Natalie Portman is all grown up and not some shrinking violet.
Penning what amounts to a Harvard-caliber book report for the Huffington Post, the actress and animal rights activist holds forth on her devotion to veganism and her opinion that those who choose to feast on flesh without regard for the moral implications might as well change their name to Roman Polanski.
The 28-year-old—with whose glowing self veganism clearly agrees—starts off harmlessly enough, crediting Jonathan Safran Foer's Eating Animals with her transition from 20 years of vegetarianism to eschewing all animal byproducts.
"I've always been shy about being critical of others' choices because I hate when people do that to me," she writes. "I'm often interrogated about being vegetarian (e.g., 'What if you find out that carrots feel pain, too? Then what'll you eat?').
"I've also been afraid to feel as if I know better than someone else—a historically dangerous stance (I'm often reminded that 'Hitler was a vegetarian, too, you know.') But this book reminded me that some things are just wrong."
That's where the criminalization of carnivores comes in.
Rejecting the simplistic thinking that "This is tasty, and that's why I do it," Portman backs Foer's argument that a little more thought at the dinner table wouldn't hurt anyone…least of all our four-legged friends.
"He posits that consideration…which has more to do with being polite to your tablemates than sticking to your own ideals, would be absurd if applied to any other belief (e.g., I don't believe in rape, but if that's what it takes to please my dinner hosts, then so be it)."
And if sensationalizing the act of meat-eating (and, incidentally, grossly discounting the severity of rape) is what it takes for her to get her point across, well, so be that, too.
Though, in fairness to Portman, her detailing of the "copious amounts of pig shit sprayed into the air" will likely make even the most ardent bacon-eater rethink their brunch menu.
That Harvard really teaches you how to turn a phrase.
________
So, Natalie and meat clearly don't get along. Check out which other famous pairings should've left well enough alone with a flip through our Most Dysfunctional Couples gallery.