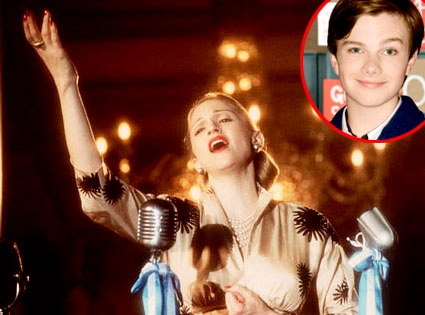 Buena Vista Pictures Distribution; Joe Viles/FOX
Glee won't begin shooting new episodes again for a few weeks, but the cast already has Madonna on the brain.
If ya haven't heard by now, producers decided to do an all-Madonna episode after Madge recently gave them permission to use any songs from her catalog.
So which tunes are the stars hoping to sing? Read on to find out…
"I really think it would be awesome if Kurt did 'Don't Cry for Me Argentina' from Evita," Kevin McHale, who plays Artie, told us at this weekend's Environmental Media Awards. "He could go on top of the school with his arms outstretched. That would be hilarious." (FYI: Sure, the Evita tune probably belongs to Broadway composer Andrew Lloyd Webber, but whatever.)
Jenna Ushkowitz, who plays the sorta gloomy Tina, says Glee creator Ryan Murphy will not choose a song just because he likes it.
"I'm really excited to see what everybody sings and how they'll tie into the storyline," Ushkowitz said at Sunday's Camp Ronald McDonald for Good Times Halloween Carnival. "The writers do find it very important to make sure the songs go along with the storyline."
She added, "I would love to do 'Frozen' in a cape in the middle of the desert."
McHale insists it doesn't matter to him if he gets to sing or not. "I just can't wait to see Amber [Riley, who plays Mercedes] do a Madonna song," he said. "I know she's going to rip it apart."
But before they get to Madge, McHale confirmed that the cast will hit the studio to record a cover of Wham!'s "Last Christmas," which they'll release as a single before, well, Christmas.
Happy holidays, everybody!
—Additional reporting by Dahvi Shira
________
Get more Glee scoop in Watch With Kristin's latest Spoiler Chat.