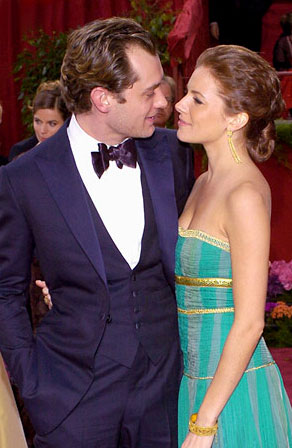 Lester Cohen/Getty Images
Times Square may not be the most romantic place on earth, but the apex of New York City is ripe for reunions.
When it was announced that Sienna Miller and Jude Law would be taking the title roles of After Miss Julie and Hamlet on Broadway at the same time, gossip lovers (and haters) gasped. Who can forget all the drama the exes caused during their tumultuous on-again, off-again relationship from 2004 to 2006?
Well, as should come as no surprise to anyone, rumors have begun that the blond beauty is over Balty, the baby-daddy is over babies and the two of them have become romantically entangled yet again.
"Sienna and Jude have met up a few times and got on really well," a source tells the U.K.'s OK! magazine, which even says a spokesperson confirmed the face time to them.
Hmmm...