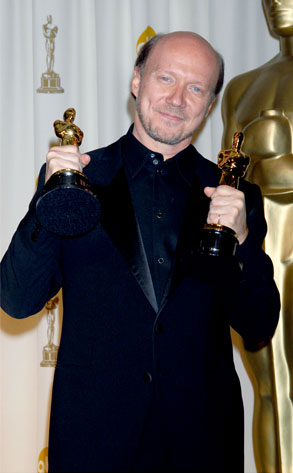 AP Photo/ Jennifer Graylock
Let's cut right to the chase: Oscar-winning writer-director Paul Haggis (Crash, Million Dollar Baby, Casino Royale) has publicly, blisteringly, bridge-burningly split from the Church of Scientology after 35 quiet years as a member.
True, he was nowhere near the religion's most famous celebrity practitioner, but he will no doubt now go down as one of its most infamous, thanks to the inevitably viral publication of his resignation letter, addressed to Church of Scientology spokesman Tommy Davis. (The letter was first published on the blog of renounced Scientologist Marty Rathbun, who confirmed its authenticity.)
In the missive, Haggis details the reasons for his split, which can be chalked up to three irreconcilable impasses with the church: its refusal to speak out or stop one of its chapters from supporting California's gay-marriage-banning Proposition 8, thereby, in Haggis' eyes, promoting "bigotry and intolerance, homophobia and fear"; Davis' public betrayal and smear campaign against former members of the organization; and, what seemed to be the final straw, the church ordering Haggis' wife, who was introduced to Scientology through her parents, to "disconnect" from them.
And yes, that's exactly what it sounds like: Haggis' wife was told to cut off all contact with her parents due to something "absolutely trivial" they supposedly did 25 years ago.
The order, which Haggis personally opted not to obey ("I've never been good at following orders, especially when I find them morally reprehensible"), was made all the more hypocritical by what Davis did next.