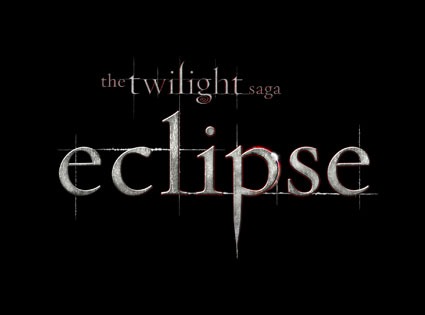 Summit Entertainment
Eclipse may have already rocked its wrap party, but the goodies from the third installment of the Twilight Saga have only just begun.
Amidst all the fun that's kicking off with New Moon hitting theaters in 25 days, the Eclipse title treatment isn't necessarily the most exciting Twi-thing going down, but it's sure worth the tease.
No, it doesn't feature new images of Robert Pattinson and Kristen Stewart making out or anything, but we totally know there'll be plenty of that next year when the film comes out.
Eclipse gets a much sharper, daggerlike makeover than New Moon had, and sits in blood red shadows. Very ominous. Kind of like Dakota Fanning's scary red eyes.
The Twilight Twitter launched the image earlier than it had promised—it vowed to show us the title when it eclipsed 200,000 followers and it's still nowhere close. But instead, it's promising something else just as tantalizing when it hits that big number, so you might want to hit that "follow" button.
Not enough action to jump start your week? Hold on to your seats, folks...
Feel free to follow us @eonline while you're at it.
________
There's already so much good stuff going on in Total Eclipse!