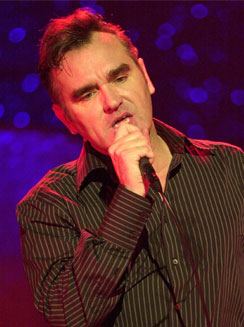 Mike Guastella/WireImage.com
UPDATE: A Great Western Hospital spokeswoman confirms that Morrissey, 50, has been released after precautionary overnight observation. "Morrissey became unwell. He's been seen by the medical team, much improved and now discharged home."
________
British superstar Morrissey may have a track record of tour-laden health woes, but Saturday's showstopping stumble appears to be serious.
The former Smiths frontman is in stable condition after suffering breathing troubles that caused a collapse during a southern England show, a hospital spokeswoman confirmed Sunday.
Cutting one of his more lively sets short, the sorrowful singer hit both knees, slumping to ground before two band members carried him offstage.
Morrissey's departure was met with more than a few boos from the crowd, after fans have spent the last year dealing with postponed and rescheduled tour dates because of his ill health.
(Originally published Oct. 25, 2009, at 9:17 a.m. PT)