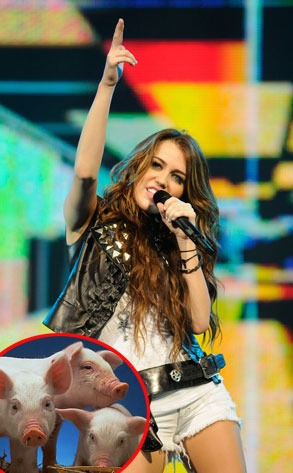 Kevin Mazur/ Getty Images
Ironically, one little tweet could've nipped this whole thing in the bud a long time ago.
Instead, Miley Cyrus has left rumor control in the hands (and rather loose lips) of her costars and publicists—neither of whom, apparently, bothered to consult one another or get their stories straight before talking to the press.
What they do agree on is that earlier this month, Cyrus fell sick. And while rumors swirled at the time that America's sweetheart had come down with a bad case of the Miss Piggys, her rep denied then that the starlet had contracted swine flu, blaming her concert cancellations instead on the much more press release-friendly strep throat.
Theoretically, the rumor should have ended there. Problem was, Cyrus' Hannah Montana costars didn't get the memo. Enter Cody Linley and the start of Flugate...
The former Disney star and Dancing With the Stars also-ran spoke with the Reelz Channel's Hollywood Dailies this week and all PR hell has since broken loose (exacerbating the conundrum is the fact that Cyrus' publicist just so happens to be Linley's publicist, as well).
"I spoke with her the day that she canceled the tour," he said of Cyrus. "She said she felt really bad, she just didn't understand what was happening, but she just got really sick and had to run offstage because things were just, like, on her heart, too heavy."
So far, so good.
"Then the next day she told me she had the swine flu."
Yikes.
That prompted another statement this morning from Team Miley to E! News:
"Miley never had the swine flu, doesn't have the swine flu, is not sick and has a concert tonight."
Hmmm…think someone's tired of answering this question?
In any case, Hollywood has not been immune to H1N1. David Boreanaz's fake-out case scare closed down the Bones set for a day, while Harry Potter's Rupert Grint, Melissa Rycroft and  Brian Littrell of the Backstreet Boys all actually came down with the swine flu. And we may soon add Sharon Osbourne's name to that list.
"I just spoke to my mum and she is in New York alone and they think she has swine flu and she sounds so sicky I'm so worried!" Kelly Osbourne tweeted this week.
And whatever previously felled Cyrus has since been cured. Per Linley, Cyrus was back to 100 percent as of Thursday night and she's set to continue her tour in Birmingham, Ala., tonight.
________
Check out which other celebs have fallen under the weather lately with a look through our sick bay roundup.