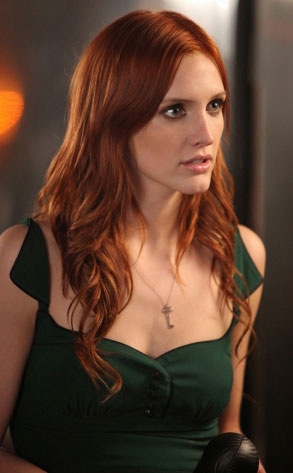 Jaimie Trublood/The CW
UPDATE, 8:28 p.m.: If you haven't seen it yet, don't miss our exclusive interview with Colin Egglesfield about why he left the show...
UPDATE: Ashlee Simpson-Wentz just released a statement to E! News about her departure from Melrose Place, saying, "Having the chance to play Violet on Melrose Place has been a thrill. Although I always knew her story would come to a final, insanely unpredictable end, playing a creepy, unstable character was something I always wanted to do, so I jumped at the chance. Thanks to the CW and the entire cast and crew of Melrose Place for allowing me this opportunity!"
___________
Spoiler alert: The producers of Melrose Place are spoiling you.
While such surprising cast changes are usually held under iron-clad lock and key, the CW has confirmed that Ashlee Simpson-Wentz and Colin Egglesfield will be let go from the cast of Melrose Place in January. In their place, we'll get some new characters.
So why are Ashlee (Violet) and Colin (Auggie) getting the boot?
According to the show's producers, it was always part of the plan. Executive producer Todd Slavkin told EW: "We always knew that this murder mystery would end in episode 12...And once that murder mystery was solved, [Ashlee] would go on her way."
Many of you have already written in to ask: Is that true? Or did producers decide on the casting change more recently?
As for what lies ahead on the show, this reveal by producers certainly seems like a big tell, given that we've reported there will be an upcoming major character death, and that it's tied to the big mystery of Sydney's murder. It's surprising that producers would want to go on record to kill the surprise of Ashlee and Colin's exits, but a CW insider tells me that the powers that be "wanted to get it out of the way."
Will you miss Ashlee and Colin on the show?
(Originally published Oct. 22, 2009, at 2:38 p.m. PT)
—Additional reporting by Ashley Fultz