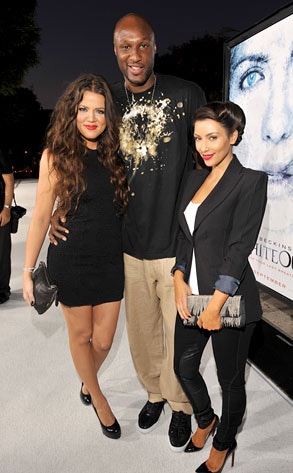 Lester Cohen/Getty Images
Khloé Kardashian may be getting some parenting practice sooner than she expected: New hubby Lamar Odom says he plans on introducing her to his children.
"Of course," the Laker answered, when asked if Khloé will meet his kids at the party for his Rich Soil clothing line at Kitson Men.
And will the new couple have any babies of their own?
"Maybe one day...hopefully!" Lamar said. (Of course, his bride can also get some tips from sister Kourtney, who is expecting her first child and told E! News, "I feel good.")
The Laker also said he knew Khloé was the one right away.
"Well, it only took me 30 days...When you know, you know," he explained, adding that married life agreed with him. "It's beautiful, it's incredible."
Khloé was by his side for the bash on Robertson Boulevard, where birthday girl Kim and Kourtney also made a quick appearance before heading to Philippe for a dinner party.
Did Khloé pick her new man over her sister's soiree?
Nope. She managed to support both her hubby and her sister. After the party at Kitson, she told reporters she'd be heading to Kim's dinner.
"I am going to Kim right after this, double dipping for a good cause," says Khloé.
Good thing, since she already skipped Kim's Vegas birthday party on Friday, when she missed her flight to Sin City.
And the Kardashian sis wasn't the only missing party guest. Kim's man Reggie Bush couldn't be with her on her big day, but the birthday girl seemed very happy with the gift from her guy.
"I don't like to really talk about specific gifts because it sounds materialistic, but he did really, really, really good this year!" Kim told us.
And even if he hadn't done so well with the presents, Kim probably would have made out all right. This was her third birthday party in the past week.
"That's how you do it," says Kim's sister Kourtney. "That's how you get most presents."
—Additional reporting by Ashley Fultz