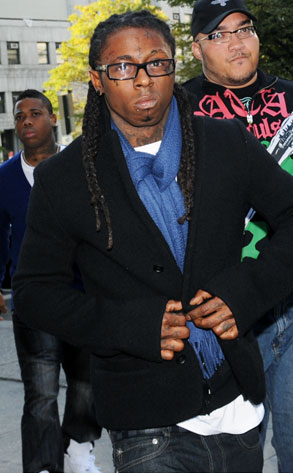 AP Photo/Louis Lanzano
If the devil is in the details, then Lil Wayne may be in a lot of trouble.
The "Hot Revolver" rapper turned up in a Manhattan courtroom today for a hearing in his gun case centering around a bit of DNA that could end up being the key piece of evidence determining his guilt or innocence.
The 27-year-old Wayne, real name Dwayne Carter III, was arrested in 2007 after police raided his tour bus following a concert and found a loaded .40-caliber pistol.
The New Orleans MC was subsequently charged with one count of criminal weapons possession and one count of criminal possession of a loaded weapon, both carrying a maximum 15-year prison sentence. He has since pleaded not guilty.
Today's proceeding focused on a minuscule amount of DNA investigators collected from the crime scene that may link Weezy to the firearm.
"They started Frye hearings regarding the DNA sample taken from the gun. It is a discussion about [scientific] evidence and the evidence being discussed is a sample of DNA," Manhattan District Attorney's Office spokeswoman Tracy Golden explains to E! News.