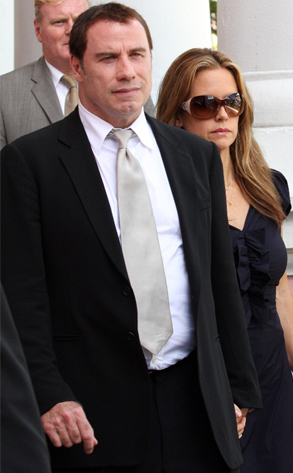 AP Photo/Kris Ingraham
John Travolta's peace of mind is now in the hands of a dozen Bahamians.
The jury is expected to begin deliberations today in the case of two locals who allegedly targeted Travolta and Kelly Preston with a $25 million extortion scheme following the death of son Jett.
Exactly one month after the trial began, closing arguments wrapped up in Nassau court this morning. The Travoltas were not present, having long since departed from the island (and absconded to England with Tom Cruise and Katie Holmes for a Scientology bonanza) after the actor's emotional testimony was complete.
Former Sen. Pleasant Bridgewater and ambulance driver Tarino Lightbourne have both pleaded not guilty.
The defense implored the jury to "set my people free," floating the theory during the trial that Travolta's attorney, with "evil in his heart," had come to the Bahamas with a plan to "corner" and "set up" the defendants.