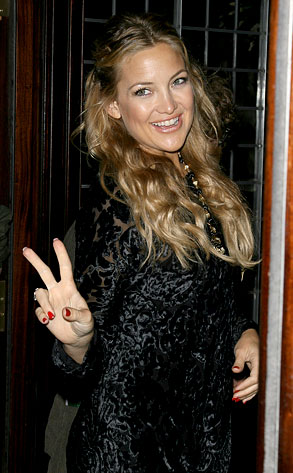 Jim Spellman/Getty Images
Kate Hudson, batting her flirty li'l eyelashes with a table full of men at Teddy's in Hollywood's Roosevelt Hotel.
A-Rod was mysteriously AWOL for the evening, leaving Kate, in a black minidress, to get her flirt on with every last dude sitting at her über-private table, tucked way in the back.
"She loves to touch men on the shoulder when she speaks to them," says our source. "You can tell she is a natural flirt and loves the attention. She has a strong sexual current. Her charm is infectious, and you could tell the men around her were intrigued."
Kate also managed to squeeze in a happy hello to Leonardo DiCaprio, who was seated across from her. But neither Kate nor Leo said a word to Teddy's regular Lindsay Lohan, partying five feet away from them all night.
Way to give the cold shoulder, babes—but it's prolly for the best you didn't encourage her bad behavior with any niceties. She might get the idea she's doing something right!
Another totally doable honey out celebrating with a big, ritzy group was...