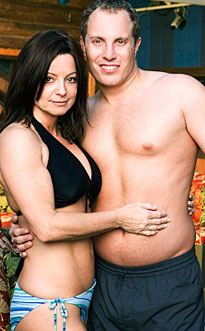 Monty Brinton/CBS
If Richard Hatch provided the first lesson in what not to do with your reality-show winnings, surely Adam Jasinski has graciously, if unwittingly, supplied the second.
Big Brother 9's ridiculously insensitive champ was arrested Saturday as part of a drug-trafficking bust after attempting to sell 2,000 oxycodone pills to an undercover government witness. Any guesses on how, exactly, he managed to finance the operation?
Yeah. That's what you call a $500,000 prize pool not so well spent.
The 31-year-old Floridian was charged yesterday with possession of oxycodone and intent to distribute following his weekend bust. The sting went down when Jasinski flew from Florida to Massachusetts to meet his would-be client.