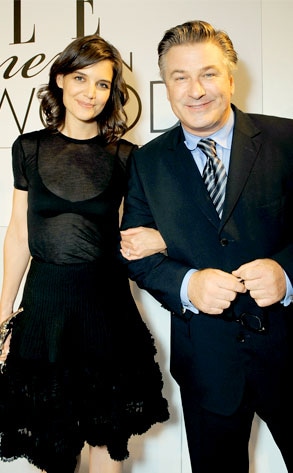 Todd Williamson/Getty Images
Alec Baldwin thinks there's an easy way to correct the disproportionate salaries between men and in women in Hollywood—cut Tom Cruise's paycheck!
"I believe we can balance the scales if Tom Cruise would lower his quote by a mere $29 million," Baldwin cracked last night during his laugh-filled hosting debut of Elle magazine's annual Women in Hollywood dinner and awards show.
"I realize this may be a bit unfair since he's not here to defend himself and I really don't want to put this all on one man, but if I had to, that man would be Tom Cruise…I assure you my salary would not make a difference. My annual salary is the budget for Altoids on one of Tom's movies."
We're happy to report that Cruise's wife and one of the night's honorees, Katie Holmes, did laugh along with the rest of the audience.
Baldwin also opined about the state of women's physiques in Hollywood…
The 30 Rock star said he was glad he no longer played "the love interest" in films.
"Women today are so skinny," he said after Renée Zellweger was honored. "If I did a love scene with them, I would crush them. If I did a love scene with Renée, I would kill her."
Baldwin said of the night's Calvin Klein Collection Spotlight Award winner Zoe Saldana and her work as Lieutenant Uhura in Star Trek, "In the movie she actually chooses Mr. Spock over Captain Kirk.
"That's probably the main reason," he continued, "she was named woman of the year by the Society of Grown Men Who Still Live in Their Parents' Basements."
And yes, there was at least one reference to our favorite Twilight-er.
Ruminating on the paparazzi waiting outside, Baldwin asked Sound of Music legend Dame Julie Andrews to give them something "scandalous" to talk about.
Baldwin suggested, "You can follow Robert Pattinson into the men's room."
We really think he's on to something!
________
For even more laughs, check out E!'s resident funnyman Joel McHale in our Soup Shots photo gallery.