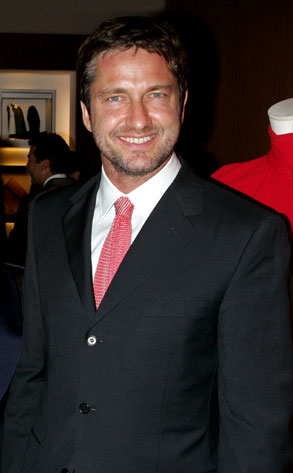 Jim Spellman/Getty Images
Dear Ted:
Justin Long made a cameo when Drew Barrymore hosted SNL, same for Scarlett Johansson when her hubby, Ryan Reynolds, was on the show...getting your significant other to guest spot is all the rage these days! Would be one helluva great way to tell the world they're more than amigos. So Gerard Butler was the guest host Saturday night, and James Franco made a cameo.
—JLM
Dear Saturday Night Gay:
Love where your dirty head's at. But like Jennifer Aniston would really stop by or something? Sorry, don't think either dude would be so obvious, were they truly launching on each other, which, of course, would be so hot.
Dear Ted:
I heart you and am a huge fan. I've been reading your column since back when you referred to Gwyneth as "Fishstick." But I'm bothered by your comments on Hollywood women like Gwynie, Jen Garner, etc. If they demand proper treatment from their husbands, you call them bitchy and manipulative. If they try to work it out with scummy men (Sean Penn, Duchovny, etc.) they are spineless. You can't have it both ways, Ted. I know healthy relationships don't make for good gossip, but what would you have a woman do?
–Nancy
Dear Not Exactly:
Definitely don't think there are only two categories for women in Hollywood. But think of it this way: In order to make it to the top of the H'wood ladder, it doesn't just take talent, babe. There are loads of decent actresses in this town. It takes cunning and thick skin—something not all "nice" girls (and boys) always have.
Dear Ted:
Nick Jonas has been spotted with Courtney Galiano at these places! All of these are true and pictures have been posted on Oceanup: Kings Of Leon concert, leaving AMC movie together, jogging together in Breast Concert marathon, putting her in Bounce video, picking her up at her hotel Niagara on the Lake. He also took her to the first baseball games they attended in Toronto. Nick is sitting next to Courtney and they both look like they are drinking Diet Coke. Hello Pedo! It's so gross. What are his parents thinking? FYI as of 8/17 she had a steady BF she said in a chat! So, she leaves her BF of three yrs for a boy? She's a woman.
—Born to sell