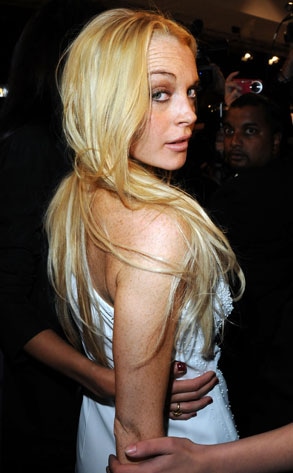 Pascal Le Segretain/Getty Images
Lindsay Lohan's court date certainly didn't put a damper on her party schedule.
Not only was the actress out at Voyeur until 1:30 a.m. the night before her court appearance—which she was late for—she hit the town last night, too.
Her hot spot of choice Saturday was Teddy's, a regular L.L. haunt. What was unusual about her outing was her appearance.
"Her hair was greasy and not brushed, she wasn't wearing any makeup, and she was smoking cigarettes inside the club every 5 to 10 minutes," an eyewitness tells E!
That wasn't the only notable moment of the night...
At closing time, a waitress went over to L.L.'s table to pick up the drinks. Lindsay threw a fit and told the server she was "not leaving yet" and would "finish her drink when she was ready." 
As the scene progressed, the manager of the club went over to try to intervene, and Lohan lashed out at him as well.
"She sucked down the remainder of her drink as fast as she could and left immediately," an eyewitness tells E! News, adding that the actress made a scene as she left.
Having a more low-key evening was a baseball-cap-wearing Leonardo DiCaprio—the star was spotted on the dance floor with none other than Melrose Place hottie Katie Cassidy.
Although an eyewitness tells E! that "their chemistry was undeniable," Katie left Teddy's without Leo, who headed off to an afterparty with pals.