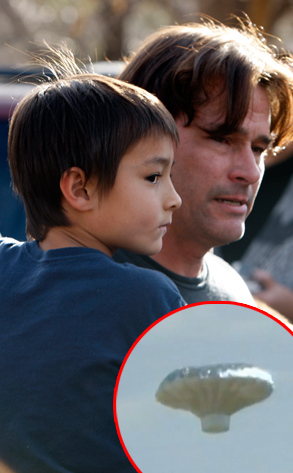 AP Photo/David Zalubowski
Little Falcon Heene might be flying high (or not), but Balloon Boy's parents are in big trouble.
Criminal charges are on the way for the "storm-chasing" Richard and Mayumi Heene, Larimer County Sheriff James Alderden stated during a Sunday morning press conference.
"The hoax [was] a planned event for at least two weeks to launch this spacecraft in order to gain media publicity," said Alderden. "To create a situation where it appeared Falcon was in the craft and his life was in danger with an ultimate goal of...obtaining a contract to do a reality show."
The charges will include filing a false report, contributing to the delinquency of a minor, attempting to influence a public servant and conspiracy, and could result in a maximum sentence of six years in prison and a $500,000 fine including restitution for all of the expenses the country incurred.
(How about adding successfully fooling an entire nation into caring to the list? Admit it—you feel as duped as we do!)