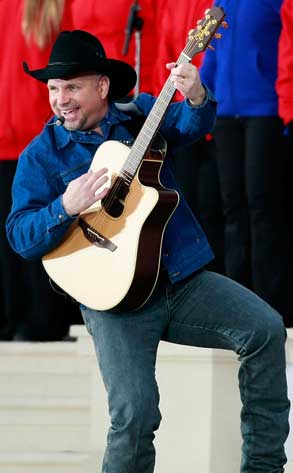 Mark Wilson/Getty Images
Garth Brooks already took Elvis' record. Now he's taking his town. Viva Las Vegas, y'all!
Just hours after the country superstar announced he was coming out of retirement—nine years after trading in his 10-gallon hat for a life of leisure—the honky-tonk ambassador confirmed that he would be taking up headliner residence at the Wynn Las Vegas.
"Steve Wynn has done what I thought was impossible. He has given me a chance to sing again for the people, while at the same time never missing a day with my children," says Brooks in a statement to E! News. "I am naturally nervous, but it feels good to be out from under the low ceiling of 'retirement' I put on myself."
The Sin City gig has long been rumored and, doing his best to play coy as long as possible, earlier this morning Brooks refused to confirm whether he was packing up his stagecoach and heading west.
"It's a proud day for me and my family to announce," he said. "We're going to take the retirement roof off over our head, and I already feel taller…As for touring, if I can't eat it, sleep it, breathe it, then it ain't me."
It also ain't without personal precedent.