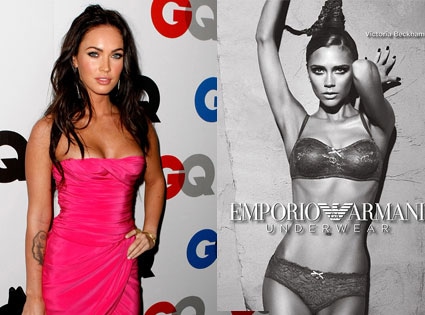 Michael Buckner/Getty Images, Emporio Armani
Megan Fox has stripped down for art. (Or whatever you want to call Jennifer's Body.) She's stripped down for men's magazines. Now she's stripping down for a little designer prestige. And, let's be honest, cold, hard cash.
That most underexposed of celebrities replaces Victoria Beckham as the face body pick your body part of the 2010 Emporio Armani Underwear campaign. It's the brand's second spokesceleb turnover in as many weeks—footballer Cristiano Ronaldo succeeded David Beckham on the men's side earlier this month.
Fox will also be taking center stage in a forthcoming Armani Jeans campaign, but we're guessing those shots will be met with a little less enthusiasm. And saliva.
The 23-year-old has already posed for the undoubtedly steamy shoot, with the black-and-white photos set to launch in both print ad and billboard form in January. According to Women's Wear Daily, unlike the Beckhams' campaign, the shots will all be solo endeavors—the David to her Victoria, Ronaldo, will not be posing alongside her in any of the ads.
As if Victoria needed another reason to not smile.