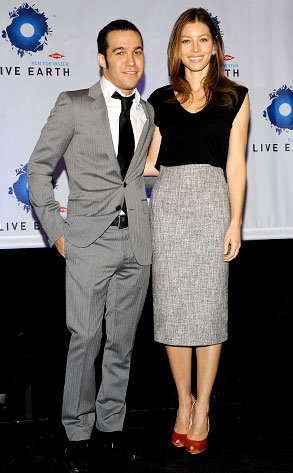 Bryan Bedder/Getty Images
We bet Pete Wentz and Jessica Biel are two big fans of Mad Men (and who isn't nowadays!). Evidence? The two fashion victims took a retro turn for the better while at a Live Earth event in New York City. We can't believe our eyes at how bright, shiny 'n' new both of 'em look in their snazzy officewear.
It's refreshing to see Pete out of a hoodie for once and lookin' dapper in a perfectly tailored suit. And we always knew Wentzy was a heartbreaking hunk under that emo swoop hairdo he's been sporting since forever, getting that black fringe out of his face and opting for a buzz cut. Dude can finally show off the chiseled Clark Kent-Don Draper Jr. thing he's got goin' on.
And Jessica usually prefers sweat suits and a grim frown when she goes out, but the '60s-inspired gray secretary—sorry, we mean administrative assistant—duds are seriously smokin'. Not to mention that smile.
New life, new wardrobe, perhaps? Maybe a Justinless Jess is for the best.