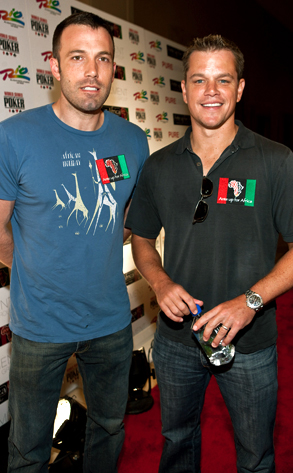 Erik Kabik
Dear Ted:
Upon learning that they are indeed related, do ya think Matt Damon and Ben Affleck said "Ewww" and headed straight for the showers?
—Mark
Dear Letter of the Day:
Too funny! But you'd be surprised; they have a bromance unusual in Hollywood—in that it's not a romance.
Dear Ted:
I hope you're in good condition today...I saw Robert Pattinson's interview with Seventeen magazine and he says he would love to work again with Kristen Stewart in another movie (outside Twilight connection). Do you think there is a possibility that they can do the remake of Last Tango in Paris since that is their favorite movie? Do you think it's right for K.Stew because she's still young and the movie is so sexy? I think it's time for K.Stew to do some adult movies and the best way to start is with Rob because of their chemistry.
—Jasmine
Dear Wishful Thinking:
Somewhere down the road, sure, I could see them working together. Like Leonardo DiCaprio and Kate Winslet, everyone's first favorite onscreen couple. They did Titanic then Revolutionary Road. If Robsten works together, expect some gaps in between that and Twilight, though…or else fans won't believe them on screen with anyone else. Like that's not already the case.
Dear Ted:
After reading your article about Austin Nichols and Sophia Bush, I have to wonder what is up with those One Tree Hill ladies. Tell me, is Danneel Harris and Jensen Ackles' relationship comparable to Sophia and Austin's? And if so, would it be fair to say that Jared Padalecki is the Jake Gyllenhaal to Jensen's Austin?
—Curious