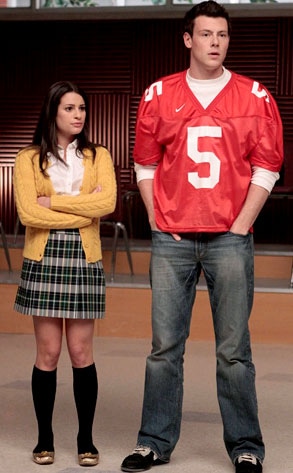 Carin Baer/FOX
Yes, Virginia, there is a Santa Claus, but don't expect any glee at Thanksgiving.
Sources confirm that the cast of Fox's hit series Glee will not take part in the Macy's Thanksgiving Day Parade, which airs next month on NBC.
According to sources, NBC and Fox had been in discussions for weeks about the Glee stars appearing when NBC decided to opt out. No contract had been signed; however, according to insiders on set, wardrobe and choreography was in the works and the cast had been informed they'd be performing.
According to a source at NBC, Macy's made the offer to the Glee cast without consulting NBC first.
Fox network and studio reps had no comment. Neither did reps at NBC.
Fox's stars have participated in the Macy's parade before—American Idol singers have performed for the past six years.
So why the Glee diss?
Insiders tell me that no reason was given for the change. So while it's possible the higher-ups at NBC have overplayed their Glee iTunes downloads to the point of annoyance (as if such a thing could happen), it seems more likely that the peacock net might be a little concerned about the new competition…
And yet, something tells me Glee will survive.
One NBC source pointed out that the network never promotes castmembers from competing programming, and that the Idol singers performed only after they had moved on from the Fox reality series to become recording artists.
As for Glee, this week's episode, "Throwdown," in which Will and Sue rip each other apart while trying to codirect the Gleesters, just might be the best episode yet. Will's also headed to the ob-gyn with his (fake) pregnant wife, Teri, so you know things are gonna get interesting.
What do you think of NBC's change of heart?