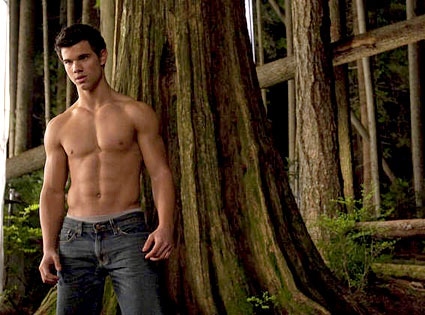 Courtesy of David Strick/Los Angeles Times
What if New Moon is completely bad? Would that mean we never see Eclipse?
—Btny, via the Answer B!tch inbox
I could tell you it's unhealthy for anybody to look directly into Eclipse, for it can fry one's IQ as quickly as one's corneas. But apparently, even this flat-out scientific fact can't kill the Twilight Saga franchise—and I'm trying to help you!
More specifically, box-office analysts say, there are very few scenarios that would even put a fang scratch in this juggernaut—including the movie absolutely sucking. I'll let you decide whether that's good news.
But wait, you may say. There's an actual thing that can make Twilight go away?
What could it possibly be? Well, one guess...
...and it isn't even Robert Pattinson.
As contractually locked down as that poor kid most certainly is, even if he were able to worm his way out of the series, box-office analysts say the film producers, in sinister league with Stephenie Meyer, would likely come up with some sort of workaround. (Look! Over there! Taylor Lautner! And his biceps!)
No, the one thing that could put a stake in Twilight is money. And the possibility of New Moon not making any is about as likely as Meyer giving up her high-school blogger stylings about "insignificance" and "impossibilities."
Moviemaking and book publishing are businesses. And as box-office analyst Chad Hartigan of Exhibitor Relations explains, even Twilight isn't immune from that.
"Speaking in hypotheticals," Hartigan says, "if New Moon wasn't making any money, that would kill the franchise. Hollywood doesn't do anything if it stops making money, but I don't see that as a possibility in this case."
Just how much money would New Moon have to not make?
Well, the budget for New Moon ranges from an estimated $50 million to $70 million, depending on who you talk to, so the flick would have to make less than that for Summit Entertainment to blink at filming Breaking Dawn. (Eclipse, as you Twi-fans know, is already under way.)
However, Hartigan says "only the apocalypse" could stop New Moon from bringing in an estimated $90 million to $100 million—in its opening weekend alone.
It might just be time to accept that the franchise is here to stay.
"If you can't beat them, join them," Hartigan advises. "And you can expect another decade of Twilight."