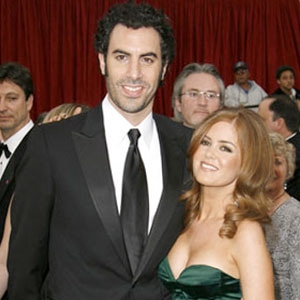 Steve Granitz/Wireimage.com
Just call it puppy love for Sacha Baron Cohen and Isla Fisher.
The engaged funny couple not only found a lost dog wandering in traffic this weekend, but they even tracked down its owner.
Here's how their canine caper went down...
Hollywood resident Jennifer Tapiero, 21, tells us she was crushed when she noticed Blaze, her 2½-year-old Maltese-Chihuahua mix, was nowhere to be found on Saturday morning. He apparently went missing when a worker on the house accidentally left a gate open to the property.
But then Tapiero's uncle, whose phone number is listed on Blaze's ID tag, got a call from a "British-sounding" man, she said.
Cohen told him that they found Blaze while driving on Laurel Canyon, a notoriously busy street in the Hollywood Hills. They jumped out of their car when they noticed several other motorists swerving around the lost pooch.
It wasn't until later in the day, when Tapiero's uncle picked up Blaze, that he and his niece realized who had saved him, because when they made the plans to meet up, Cohen didn't say who he was. He simply said, "I'm very tall and my fiancée is really tiny. You can't miss us."
—Reporting by Dahvi Shira