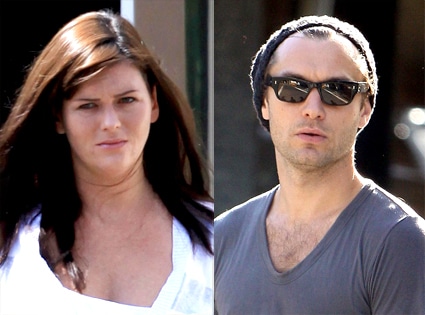 BARM/Fame Pictures; Freddie Baez/startraksphoto.com
He's already admitted it, but now a chemistry set proves it.
Paternity tests confirm Jude Law is the father of Samantha Burke's baby daughter, Sophia.
"Since the birth of her daughter, Sophia, there have been a number of reports in the media questioning paternity," the 24-year-old brunette's rep, Eileen Koch, said in a statement to E! News. "In response to those questions, Samantha can firm that DNA testing has conclusively established that Jude Law is Sophia's father. Samantha and Sophia are doing well and appreciate all of the well wishes they have received."
The tot was born on Sept. 22, nine months after the current Broadway star's brief but possibly forgettable fling with the aspiring model.
"I can advise that, as per Jude's original statement, he considers this an entirely private matter and will be making no further comment—nor us on his behalf," the actor's London rep, Sara Keene, tells E! News.