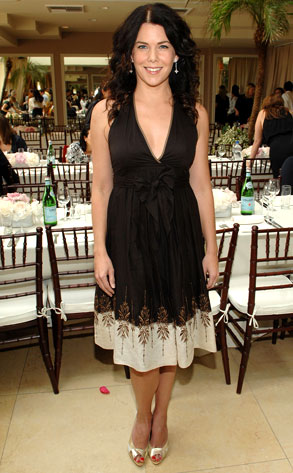 AP Photo/Peter Kramer
• Parenthood: Lorelai Gilmore is back, baby! Reps confirm that Lauren Graham is officially joining NBC's midseason drama Parenthood in the Sarah Braverman role. The character was originally played by Maura Tierney, who left the series to focus on her breast-cancer treatments.
• Friday Night Lights: DirecTV has released five fab new promos for Friday Night Lights season four. If you watch, we dare you not to get goosebumps. (BTW, in case you missed it, check out our scoopy exclusive with FNL show runner Jason Katims.)
• The Vampire Diaries: What About Brian star Matthew Davis just signed on to The Vampire Diaries to play fan-fave character Alaric Saltzman.
• 24: Apparently 24 star Cherry Jones and Studio 60 on the Sunset Strip star Sarah Paulson, aka one of the most adorable low-profile actor couples out there, have broken up. Sadness.