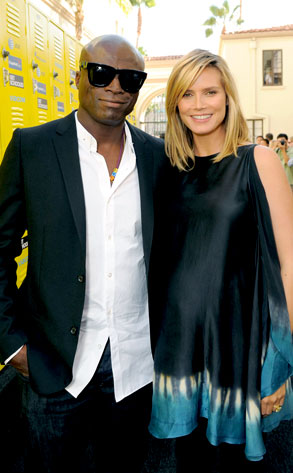 Todd Williamson/Gety images
Babies are like the fashion world. One day they're in, the next they're out. Just ask Heidi Klum.
Despite denials that the supermodel was even in labor, Klum and hubby Seal welcomed a baby girl, Lou Sulola Samuel, on Friday at 7:46 p.m. in Los Angeles, E! News confirms.
The stunner-in-training has two big brothers—Henry Gunther Ademola Dashtu Samuel, 4, and Johan Riley Fyodor Taiwo Samuel, 2—as well as big sis Helene "Leni" Klum, 5, from Klum's previous relationship.
The Samuel family's impending addition was revealed in April when sketches of a belly-accommodating couture gown were leaked on the Internet.
"It's difficult to imagine loving another child as much as you love your existing children," Seal said in a statement released tonight. "Anyone who has a family will tell you this. Where will one find that extra love? If you love your existing children with all of your heart, how then can one possibly find more heart with which to love another?