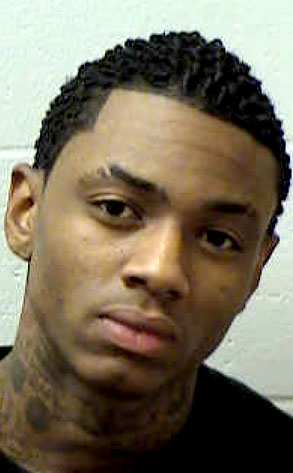 Henry County Police Department
He's a runner, not a fighter.
Unfortunately, it was Soulja Boy's fleet-footedness that resulted in his arrest Wednesday night.
The "Crank That" rapper was busted on a charge of obstruction and spent the night in jail after fleeing from an abandoned home—at which some 40 of his closest, rabble-rousing friends had also gathered—when Atlanta cops showed up, responding to concerned calls.
"Somebody had seen a large group of juveniles hanging out at this house that they knew to be abandoned," Henry County Police Capt. Jason Bolton told E! News. "[The responding officer] found about 40 people located behind this abandoned home. Half of the group ran from the officer, despite orders to stop."
Guess who was among those hightailing it off the premises?