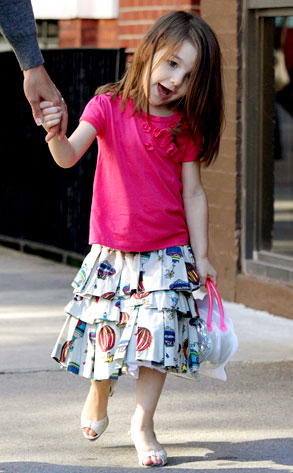 Christopher Peterson/BuzzFoto/Getty Images
What is with TomKat dressing Suri up like a teenage fashion freak? High heels are not appropriate on a toddler!
—Liz Ruiz, via Facebook
Well, neither is fame, but Suri's parents have had no problem parading her around in public and in the media since the day she was born. How on earth is Katie Holmes supposed to boost her image as a fashionista without dressing up her 3-year-old like a tiny runway model for an itty-bitty Paris Fashion Week?
I mean what do you want Katie to do, concentrate on her fashion line? Yeesh.
Indeed, high heels were basically designed to make females look sexier. They lengthen the leg and tilt the hips forward. But given that the shoe height on Suri is pretty small, the real issue here may actually be something more serious...