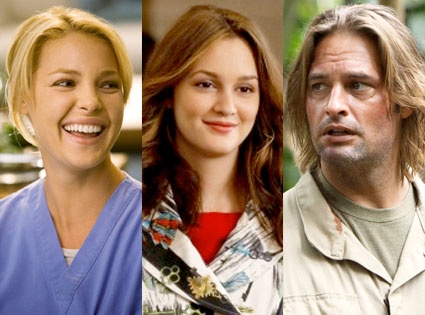 ABC/Randy Holmes; Giovanni Rufino/The CW; ABC/Mario Perez
Stop the presses!
After what one reader called "the longest maternity leave in the history of babies" (which according to leading historians is, like, a really long time) E! Online's TV scoopster Kristin Dos Santos is back in the hizzy today!
What's that you say? You don't even remember Kristin? Out of sight, out of mind? And why on earth should you care that she's trading in diapers for her DVR? Well, don't worry because that is not the reason you TV fans should get excited. (As if.)
The reason to get excited is this, which just might be the best thing you'll read today...
I know who the Gossip Girl threesome is.
I have secrets about the new season of Lost.
I know some juicy things about House and Grey's Anatomy and Melrose Place.
And I am devoting my time—live, right now—to you.
Yes, you. Not that shmuck sitting behind you with the food in his teeth. (Well, OK, him too.)
To try and make up for the past (ahem-six-ahem) months of silence and, more importantly, because I honestly missed you guys, I'm going to try to tackle as many of your questions as I can in the comments section below, starting now until 4:00 p.m. ET/1:00 p.m. PT.  I'm celebrating my return by doing first what I missed the most: connecting with you.
So don't leave me sad and lonely and commentless, OK?
Ask me anything about your favorite show, favorite star, favorite rumor, favorite Gossip Girl threesome or favorite TV scoop columnist (I know, I love Ausiello, too!), and I will do my best to answer everything I can. Keep in mind, I'm still kind of in a baby coma, but I did hear some things in between changing diapers and wiping sweet potatoes off the ceiling.
Like Dexter Morgan, I am a sleep-deprived, baby-whipped fool—I'm not gonna lie, I already miss the little munchkin—but the good news is I have a job to come back to that I totally adore...which is a little less messy than Dex's but just as thrilling.
As Pat Benatar would say, hit me with your best shot. Fire in the hole!
(Wait, that's not it. Told ya. Sleep deprived.)