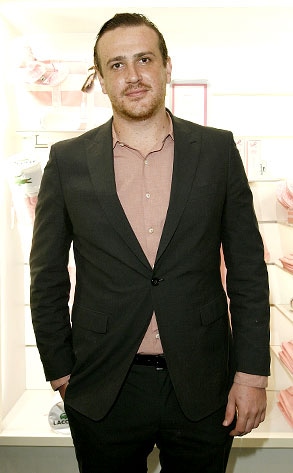 Donato Sardella/Getty Images
Jason Segel may be known for making people laugh, but the funnyman also has a serious side.
Segel told us last night that a male friend of his is battling breast cancer. Although rare, about 1 percent of all U.S. breast cancer cases occur in men.
"I think the key is to keep treating him normally and not change the way you would normally talk to someone just because they have cancer," Segel said at the launch of Lacoste's 2009 Pink Croc collection, which benefits the Breast Cancer Research Foundation.
Director Judd Apatow also opened up about how the disease has affected his life...
"A lot of people in my family have suffered from cancer," Apatow said. "My mom passed away from ovarian cancer...a year and a half ago. It's a terrible disease, and it should be on the forefront of everyone's mind about raising money for research and doing everything we can to fight it."
In much lighter news, Leslie Mann, who hosted the Lacoste soiree, said she wouldn't mind a gig in something other than a comedy. For those who don't know, her hubby is Mr. Apatow.
"I would love to do a fighter movie," Mann said. "I would have to train a lot to play that part and I would get into really great shape. I want to do one of those movies where they fly through the air."
Also at the Grey Goose-sponsored event were Rashida Jones, Michael Cera, Adam Shankman, Brenda Song, Azis Ansari and Abigail Spencer.
—Reporting by Dahvi Shira
________
Check out our Do-Gooder gallery to see other stars doin' what they can to make a difference.