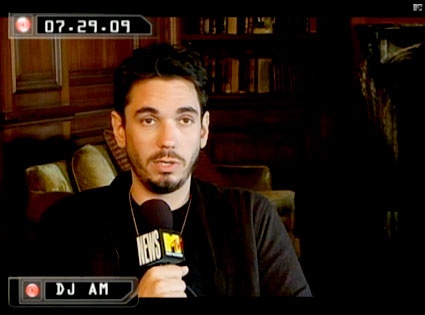 MTV
DJ AM's show lives in the wake of his death.
With the network already figured to be heading in this direction, MTV confirmed Monday that it will be airing the eight-part documentary special Gone Too Far, featuring the late celeb spinner as a lifeline for young people struggling with substance abuse.
Adam "DJ AM" Goldstein had wrapped production on the series when he was found dead in his New York apartment on Aug. 28 after accidentally overdosing on cocaine and prescription meds. He was 36.
"After careful consideration we have decided to air the show," Goldstein's family said in a statement released by MTV. "Adam felt strongly that by doing this series he could help other addicts who were at a crisis point to get sober. Adam was fully aware that if it were not for his own sobriety he never would have achieved the level of success and happiness he had found. Helping people in their recovery was a huge part of Adam's life.
"The decision to air the show has been difficult," they continued, "but we do this with the profound belief that it will inspire others to seek help."
Gone Too Far premieres Oct. 12 at 10 p.m. on MTV. Too bad there won't be an epilogue featuring an equally determined interventionist helping AM with his recovery.
The DJ AM Show Will Go On
________
Take a look at some of DJ AM's finer moments in our tribute gallery.