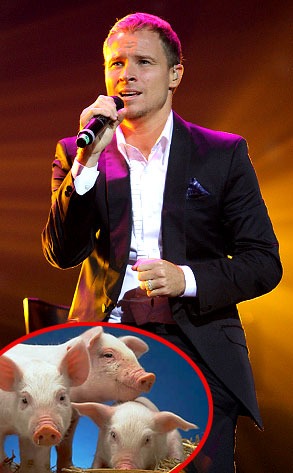 Leon Bennett/Getty Images; AG Stock USA
Those pigs just ruin everything! First Bones and now BSB!
The Backstreet Boys have been forced to put their media blitz for their new album—This Is Us, out tomorrow—on hold as Brian Littrell has been diagnosed with swine flu.
Needless to say, New York appearances scheduled for today and tomorrow have been canceled in light of the illness.
"We were really looking forward to spending time with our closest fans and friends in NYC," Littrell says in a statement. "I hope we can come back soon and do everything we can to help."
Thankfully, doctors declared Nick Carter, Howie Dorough and A.J. McLean are H1N1-free, but prescribed Tamiflu to the group and their touring party, who had just returned to the U.S. from Tokyo.
While swine flu is no oinking laughing matter, something tells us this diagnosis may provide healthier awareness for their album than that media blitz.
________
Those pigs are not cute. Halle Berry and daughter Nahla in Big Pic is cute.