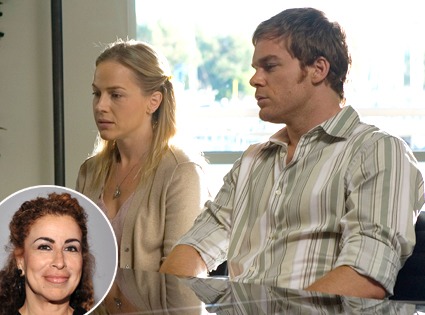 Lester Cohen/Getty Images; Peter Lovino Showtime
Suburbia is not sitting well with our favorite sleep-deprived serial killer.
We chatted with Nip/Tuck's Roma Maffia this morning, and the actress spilled some surprising casting scoop with us: "I just did a role that could be a recurring character on Dexter." Roma was tight-lipped about her upcoming stint on the Showtime hit and only gave in slightly when we begged and pleaded to know the deets: "It's Dexter plus one. I think it's a surprising turn."
Want to know what part Roma will play that might mean some major drama for Dex? Read on to find out of what other sources told us...
Turns out the plus one is wifey Rita (Julie Benz). "Roma's role is a marriage counselor/couples therapist who's helping Dexter and Rita adjust to their new suburban family life," confirms the show rep.
Let's play a guessing game: Since both the rep and Roma were unable to comment on the "recurring" status of Roma's character, we're betting Dexter and Rita are in for a potentially rough road ahead and that this therapy biz may be an ongoing thing.
Between the Trinity Killer, fatherhood and, oh yeah, that Dark Passenger, Dex is long overdue for a shrink sesh.