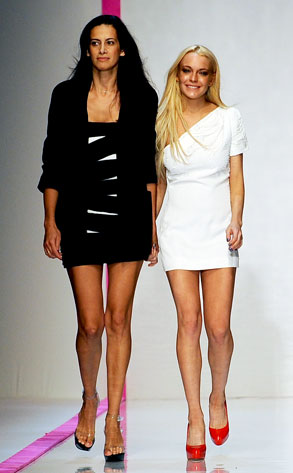 Dominique Charriau/Getty Images
Poor Lindsay Lohan can't do anything right. From the embarrassing Twitter rants to TV movies to the bizarre lip plumping, everything she does is an epic fail. It's starting to get sad pointing it out every time. But then she keeps doing it, and so here we are again.
Lohan's most recent gig is "artistic adviser" of French fashion house Emanuel Ungaro, a job where she "kind of oversees everything [actual designer Estrella Archs] does, while working with her. Different generations have different ideas."
Everyone expected a total disaster—and that's just what Lohan gave them Sunday afternoon at her Paris Fashion Week debut.
Women's Wear Daily called the clothes "cheesy and dated." Style.com said the show started out promising but then quickly "devolved into a bad joke of a fashion show, one with questionable color combinations, 'bad eighties' draped silk jackets and drop-crotch pants, old-fashioned and ill-judged fur stoles, and, yes, tasteless sequin pasties."
However, in a rather interesting turn, all the reviews legitimately felt sorry for Lindsay.