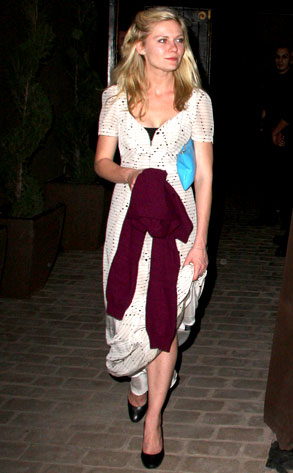 PacificCoastNews.com
Maybe Kirsten Dunst didn't quite get her point across.
The man accused of busting into her NYC hotel suite and stealing roughly $15,000 worth of handbags and electronics in 2007 was convicted Friday of criminal trespass, a misdemeanor that could land him in jail for a year.
Meanwhile, the jury deadlocked on the weightier burglary charges, which could have netted James Jimenez, 35, up to 15 years in prison. Another man involved in the incident, Jarrod Beinerman, copped to attempted burglary last year and settled for four years behind bars.
Dunst testified last week about what was missing from her suite at the SoHo Grand when she returned from shooting scenes for the film How to Lose Friends and Alienate People. Her costar Simon Pegg, who said that his cell phone, camera and iPod were snatched, also took the stand to answer questions about that day.
But apparently Jimenez's testimony—that he was too simple-minded to have planned such a heist and was under the impression that he was just running an errand with Beinerman when he found himself in Dunst's room—made a more lasting impression.
He remains free on $50,000 bail until his Nov. 13 sentencing hearing.
"I feel pretty good," Jimenez told reporters after court today. "I never gave up my faith in the Lord."
Some of the items were eventually returned to Dunst after police caught up with the suspects.
________
If a female star gets dressed, then it's a good bet she'll wind up in our Fashion Police gallery sooner or later.