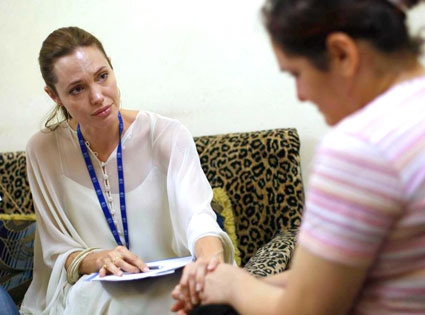 UNHCR/ S. Malkawi
They'll never let us forget they are more than just pretty faces. Angelina Jolie and Brad Pitt took time out of their schedules on Friday to bring attention to the continuing plight of the hundreds of thousands of Iraqi refugees still living in Syria.
Jolie, a United Nations goodwill ambassador, and her significant other spent time with two different families in the Syrian capital of Damascus. They also met with Syrian president Bashar al-Assad to discuss the efforts being made toward health care and education. 
"It is clear that the Syrian people, no matter the challenges or difficulties they may face, have always shown generous hospitality to people in need," said Jolie, who last visited the area in 2007. "I hope that the rest of the world recognizes that we all have to share this burden and continue to take care of Iraqi refugees."
________
See who else is looking to make a difference in our Do-Gooder gallery.