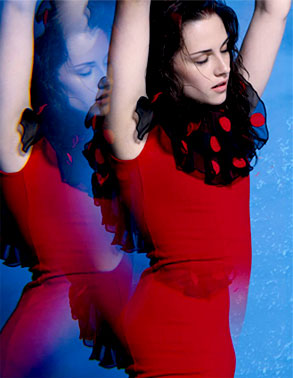 David Sherry for Dazed and Confused
Dear Ted:
I'm 100 perfect definitely in love with my BF, but when I started surfing online and was able to see this Twilight phenomenon, I started to get addicted to Kristen Stewart. I can't help myself looking for her latest news. For me, she's so hot, especially when she tries to dress up like on her cover photo shoots. Can you tell me what is her next project after shooting Eclipse and K-11? I'm hoping K.Stew does a movie with Ryan Gosling, they are both hot...probably a story about May-December affair. What do you think?
—Jasmine
Dear Gay for K.Stew:
Wow, another doll desiring a Gosling-Stewart onscreen hookup? H'wood execs, you paying attention? And K.S.'s next project after Eclipse will, duh, be Breaking Dawn. If she wants to film anything else, it's gotta work around B.D.'s schedule.
Dear Ted:
What has happened to Katie Holmes' fashion sense? She was revered as a fashion icon only a couple of years ago, and now she is beyond frumpy. In fact, she might be one of the worst dressed stars out there. Do her current outfits echo her state of mind (i.e. help me, I'm trapped in a fake, loveless marriage!)?
—TJS
Dear Horrible Holmes:
There's a ton of pressure of looking the part of Missus Cruise (times three)—now that everyone's used to her filling that role, she doesn't have to try so hard anymore. Plus, her daughter is stealing her fashion thunder every time they're seen out together anyway.
Dear Ted:
You know an article was posted about Miley Cyrus and Liam Hemsworth dating and getting cozy. Where are the pictures and facts? I want to see them. If you guys were that smart and understood her tweets, you would know her boyfriend is Nick Jonas. Maybe I should work there. The bottom line is people with these stories are ruining her relationship with him—is that fair to them? What if someone did this to you?
—Leah