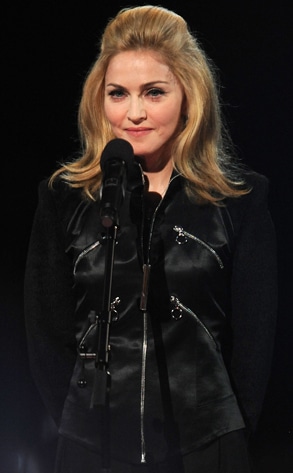 Kevin Mazur/Getty Images
• Madonna allowed someone to interview her about her upcoming greatest hits album, Celebration. In between talking about how busy she is—screenplay writing, movie directing, saving Africa, raising kids—Madge confirms that Lourdes wants to be an actress.
• It wouldn't be a normal day on the Internet if there wasn't some sort of new Megan Fox content available. Here's a video of her behind-the-scenes at her Nylon shoot. She introduces us to her dog, so it's worth it.
• Um, thanks for posing on the cover of Arena Homme magazine shirtless, Ed Westwick. Now please go cover yourself back up.
• Suri Cruise photo break! Oh wait, two of them!
• Alright, everyone stop paying attention to that random SYTYCD girl's crotch flash. Lady Gaga would like all eyes back on her lady parts.
________
Courteney Cox + Lisa Kudrow = Best Friends Forever. Why else would they be hanging out together in our Big Pic gallery?