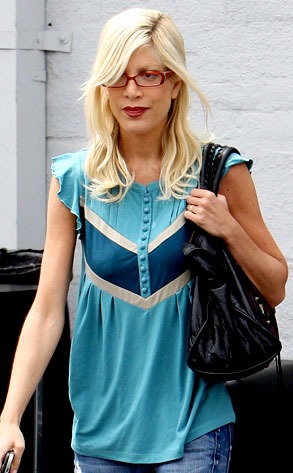 Max Butterworth/ Sam Sharma, PacificCoastNews.com
Tori Spelling is in recovery mode. From what, nobody knows.
The Inn Love reality star and professional marriage rumor-debunker is currently laid up in a hospital, where she has been receiving treatment for severe stomach pains.
"Tori went to the hospital last night for abdominal pain," her rep told E! News. "They released her last night. She wasn't feeling any better today so she returned to the hospital for more tests."
There's the clinical, succinct explanation. For the slightly less composed alternative, we turn to Spelling's concerned hubby, Dean "Twitter Play-by-Play" McDermott.
"The hits just keep coming!!" he wrote yesterday. "T is in the hospital now with severe stomach pains. We're trying to get her comfortable.
"Will keep you updated the best I can. Phone battery is dying."
A man of his word, McDermott kept his followers abreast of Tori's state later last night.
"Just out of the hospital. After a battery of tests, no conclusive answers. She still feels terrible. Hope it passes soon. She's in a lot of pain."
There have been no further updates from McDermott on his wife's condition, but we're sure another is on the way. Just as soon as he finishes doling out cross-state trick-or-treating advice.
Priorities, people.