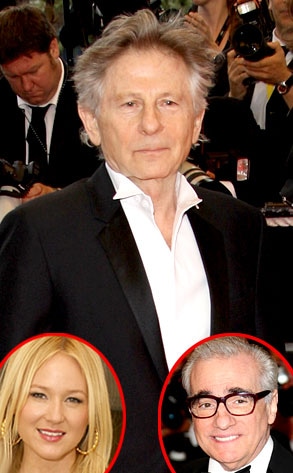 Tony Barson/Getty Images; Chris Weeks/Getty Images; Mike Marsland/Getty Images
Martin Scorsese and Woody Allen want Roman Polanski back on the streets. Jewel, not so much...
The two Oscar winners, along with Pedro Almodóvar, John Landis, Jonathan Demme, David Lynch and more than 100 filmmakers, actors and industry types, have signed a petition objecting to the fugitive director's arrest and demanding his release from a Swiss jail.
Authorities in Zurich took the 76-year-old Polanski into custody Saturday at the behest of Los Angeles prosecutors, who want him brought to justice for a 1978 statutory rape conviction.
The fact Polanski's been on the lam for drugging and then having sex with a 13-year-old girl didn't seem to faze his fellow filmmakers, who are peeved that the Academy Award winner behind Chinatown, Rosemary's Baby and The Pianist was picked up while he was on his way to accept a lifetime achievement award from the Zurich International Film Festival.
"It seems inadmissible to them that an international cultural event, paying homage to one of the greatest contemporary filmmakers, is used by the police to apprehend him," proclaims the petition, which has the support of France's Society of Dramatic Authors and Composers.
Other notable signatories include directors Wim Wenders, Terry Gilliam, Wong Kar-Wai, Darren Aronofsky, Alfonso Cuarón and Alejandro González Iñárritu, as well as actresses Monica Bellucci, Tilda Swinton and Asia Argento.
"The arrest of Roman Polanski in a neutral country, where he assumed he could travel without hindrance...opens the way for actions of which no one can know the effects," the group added in their appeal.
But not every celebrity is on the "Free Roman" bandwagon.
"Polanski-admitted raping a 13 yr old-whys every1 in the arts upset hes facing jail? cause hes a gifted director? what am i missing?" asked bewildered singer-songwriter Jewel via Twitter.
Also chiming in was The View's Sherri Shepherd.
"Whew...long day at The View...two shows today...hot debate over the Statutory Rapist Polanski. 45 year old man plies a 13yr old w/drugs & Liquor and anally & orally penetrates her w/o her consent is a RAPIST," she tweeted. "We hunt down 75 year old Nazis. We must protect our children."
The outcry comes as Polanski's lawyers filed a potentially more binding petition of their own—asking the Swiss Criminal Court to release him from custody and block his extradition to the United States.
His legal team wants Polanski to be allowed to post bail or be remanded to house arrest at the Swiss chalet he owns in Gstaad.
The filmmaker holds dual citizenship in Poland and France and has remained in Paris since fleeing California authorities three decades ago.
(Originally published Sept. 29, 2009, at 1:25 p.m. PT)