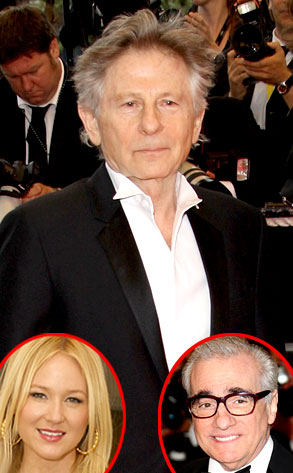 Tony Barson/Getty Images; Chris Weeks/Getty Images; Mike Marsland/Getty Images
Martin Scorsese and Woody Allen want Roman Polanski back on the streets. Jewel, not so much...
The two Oscar winners, along with Pedro Almodóvar, John Landis, Jonathan Demme, David Lynch and more than 100 filmmakers, actors and industry types, have signed a petition objecting to the fugitive director's arrest and demanding his release from a Swiss jail.
Authorities in Zurich took the 76-year-old Polanski into custody Saturday at the behest of Los Angeles prosecutors, who want him brought to justice for a 1978 statutory rape conviction.
The fact Polanski's been on the lam for drugging and then having sex with a 13-year-old girl didn't seem to faze his fellow filmmakers, who are peeved that the Academy Award winner behind Chinatown, Rosemary's Baby and The Pianist was picked up while he was on his way to accept a lifetime achievement award from the Zurich International Film Festival.