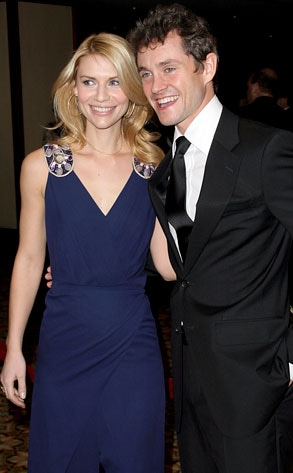 Polk Imaging/Getty Images
Love certainly seems to be in the air. Well, love and itchy ring fingers.
Count Claire Danes and Hugh Dancy among the growing crop of star newlyweds, as the longtime duo quietly tied the knot in France earlier this month.
The ceremony was kept intimate and attended by family and close friends of the pair. And, in line with their keep-it-quiet plans, that's about as much detail as we're getting. Their reps declined to comment on the nuptials, which were first reported by Life & Style.
The 30-year-old Danes and the 34-year-old Dancy met in 2006 while costarring in Evening. They announced their engagement in February of this year.
Earlier this month, the actress openly gushed over her British better half.
"While relationships are work, this just didn't feel like it," she told BlackBook magazine. "It's the kind of work that feels energizing rather than enervating. I find it very freeing to know that, okay, it takes constant nurturing and attention, but I can also stop looking for the one."
Eat your heart out, Jordan Catalano.