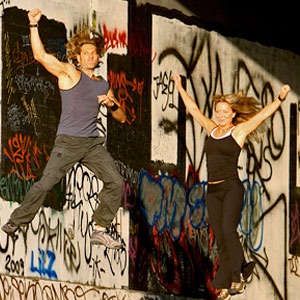 Robert Voets/CBS
Talk about budget cutbacks.
For the first time ever, The Amazing Race eliminated one team before they ever crossed the starting line. Worse, this pair was stuck in the L.A. river basin while the other teams headed to the airport for the Race's first leg: Tokyo. Hey, one-way flights to Japan aren't cheap.
Before the two-hour season premiere ended, the number of teams had been slashed from 12 to 10. Click in to find out who wasn't big in Japan...and which frontrunners are most likely to raise Phil Keoghan's signature eyebrow.
The remaining teams arrived in Japan and soon found themselves in the middle of a sushi-themed Japanese game show. In their first foody challenge, contestants were forced to suck down a gut-busting portion of wasabi before navigating chaotic Tokyo with a group of audience members to the first pit stop. The first team to put a bitter taste in our mouths, however, are unendearing professional poker players Maria Ho and Tiffany Michelle, who incurred a two-hour penalty after losing two of their group. The shady duo rival Johnny Fairplay's dead-grandma fib by telling teammates they work as counselors for a nonprofit organization helping homeless youth...a great lie, if you can keep it up for more than an hour. They couldn't—when recognized at the airport by a poker fan, they basked in his adulation...within earshot of their amazed competitors. The duo also shared another "savvy" strategy: flirting with cute brothers Sam and Dan McMillen. Both of whom are gay—and playing their cards right by flirting right back with the femmes fatales.
Rivaling the brothers McMillen in the cutie-pie division are Justin Kanew and his buddy Zev Glassenberg, who has Asperger's syndrome. The adorably astute Zev said he didn't get a "warm loving feeling" from the pseudo-philanthropic poker gals—and gave his own jacket to a rain-drenched and obviously freezing local man in Vietnam. Zev was later dubbed the Duck Whisperer by his partner when he demonstrated his "awe-inspiring power" during a bird-herding challenge. Former (but noncontroversial) Miss America Ericka Dunlap had a more frustrating experience rounding up the little quackers while hubby Brian Kleinschmidt waited in the wings and announced to the fowl, "I know what I'm having for dinner!"
Of the other teams, on-off couple Garrett Paul and Jessica Stout seemed to encounter the most difficulty. On their way to the first pit stop, a member of their game-show group insisted on using the restroom, recalling the million-dollar bathroom break that knocked Kisha and Jen out of the finals last season. But this couple faces larger obstacles than port-a-potties (do with that analogy what you will) to conquer, and they were the first team eliminated on foreign soil. After noting that the couple experienced more breakups than time together during their seven-year relationship, Garrett summarized—to Jessica's obvious dismay—"I don't know if we're any closer to marriage."
Rounding out the global trek are the adorable Gary Tomljenovich and his son Matt; online romancers Marcy Maloy and Ron Shalita (who, as the oldest racers, have held their own thus far); the charismatic, do-no-wrong Harlem Globetrotters; Keri Morrione and her fiancé, Lance, who promises all manner of douchebaggery; Nashville singer Mika Combs and her sexy but "sexually pure" songwriter BF Canaan Smith; and athletic, affable, attractive young couple Meghan Rickey and Cheyne Whitney. 
In addition to traveling one of The Amazing Race's fastest courses, the remaining contestants, said Emmy magnet and The Amazing Race executive producer Bertram van Munster, will revisit "one of the most challenging Roadblocks our teams have ever encountered during our past 15 seasons."
Which Roadblock are the new Racers destined to repeat? Who are your early favorites...and villains? Detour down to the comments and sound off!